Memory Care
If you are seeking compassionate care for a loved one with Alzheimer's Disease, you realize that this devastating disease affects not only the resident but also the family members involved. The person afflicted with this dementia type of illness has lost many of the functions that they have learned over a life time. They have multiple needs for safety as well as personal care with normal functions of everyday life.
Jenkins Memory Care Community staff realize the need to provide a safe atmosphere and understand the losses which the resident has gone through. Residents are treated with dignity and respect while the staff handles the delicate tasks of personal care.
There are many advantages of a specialty community for those who need memory care
Additional security features and a less confusing environment
Higher staffing levels and familiar faces
Activities which suit the residents needs and abilities
Bowel and bladder programs are done routinely to prevent incontinence
Walking programs to prevent decline in ability
Family involvement to promote the feeling of love and acceptance
Family members in that community form a special bond and help create that feeling of "home"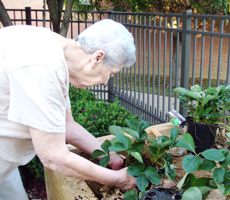 Link to Alzheimers Information