Long Term Nursing Care
If you are looking for 24-hour a day care and cannot get the amount of help needed at home to assure safety and adequate health care, then long-term nursing care could be a good option for you.
Jenkins has experience with the complex care that may come with multiple diagnoses and illnesses. Jenkins is also blessed with trusted physicians who have served this community for many years. These physicians know the residents they serve.
Levels of Care & Staffing Levels
Jenkins keeps its staffing levels above most facilities to assure that there is time to complete all of the tasks that are involved in the total care of each resident, as well as providing a "homelike" environment.
Jenkins strives to have the same staff in each community, to allow the residents to know their care-givers and the staff to know each resident's needs.
Jenkins promotes "Person Centered Care" with activities that give each resident a means of socialization and enjoyable ways to spend their days, taking into account the limitations which they may have.
Other services which a person might need are also available at Jenkins, such as: Beauty Shop, Podiatry, Opthamology, Dentistry, Audiology, Psychological Services, and Spiritual needs.
Person Centered Care
Person Centered Care is the way we describe many aspects of the care given in our communities. The care revolves around the person.
Activities are directed to meet the needs of the residents, taking into consideration their past interests, hobbies and occupations. Residents are encouraged to join activities both at the facility and in the community. The residents council meets monthly to decide what they want to do for special activities for the month. Some activities are meant to be quieter times of socialization. At Jenkins, we believe that all activities are meaningful.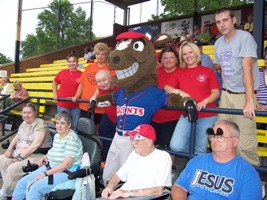 Other Services
Hearing, Vision, Dental, & Podiatry ..... From head to toe, We've got you covered.
For those who require 24-hour per day care, going out to the dentist, podiatrist, optometrist, or audiologist, would be a real hardship. At Jenkins, we bring the services to the residents.
Psycho-social or behavioral needs.....
Psychiatric services deal with adjustment, depression or inappropriate behaviors. Clinicians schedule routine weekly visits with residents who are referred by the physician.
Spiritual
There are many opportunities to worship, fellowship and learn. Many local churches participate in the spiritual services at Jenkins. The activity department has many activities which involve the spiritual aspect of life including: gospel singing, "talk and prayer" and church services.
The activity department arranges for special outings to different local churches as well as having a non-denominational communion service in the great room for Good Friday and Christmas Eve.
The facility also has a chapel and family lounge for quiet times.