Rapid Pace Rehabilitation
Jenkins Care Community offers rehabilitation services for:
Joint replacements
Cardiac care after open heart surgery
Fractures
Strokes
Rebuilding strength after a surgery or a spell of illness
Jenkins "Rapid Pace Rehab Program" promotes getting you or your loved one back home within the first 20 days of 'Medicare A' coverage.
Jenkins has several private "rehab" rooms, equipped with a television and telephone as well as a private bathroom. Jenkins understands that the client's goal is to get better quickly and to go home. The rehab team will evaluate the home setting prior to going home, in case there is a need for alteration of the physical part of the home due to safety reasons.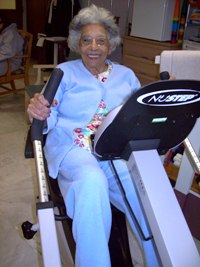 Therapy Services
Genesis Rehab Group supplies Jenkins with skilled therapists in all three of the following categories:
Physical Therapy focuses on the lower extremities and mobility
Occupational Therapy focuses on the upper extremities and activities of daily living, including bathing, dressing, toileting, etc.
Speech Therapy focuses on communication skills, feeding and swallowing abilities as well as cognitive programs. The Speech Therapist is trained in VitalStim which strengthens the ability to swallow